Orangeburg Municipal Airport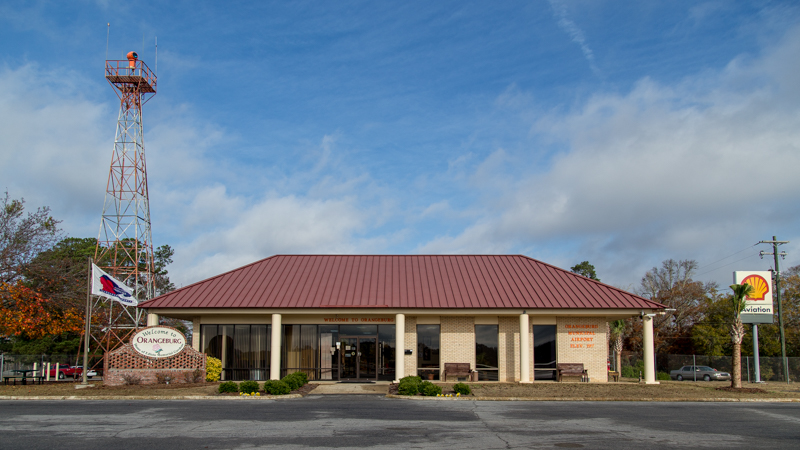 The Orangeburg Municipal Airport (OGB) is owned and operated by the City of Orangeburg.
It is located two miles south of downtown Orangeburg off the Hwy. 21 by-pass (Joe Jeffords Highway) at 1811 Airport Road, Orangeburg, SC 29115.
The airport is the home base to a number of corporate and private aircraft. The FBO is operated by the City of Orangeburg. Two runways, 17/35 (5,400 ft.) and 5/23 (4,600 ft.) serve both piston and jet aircraft. 100LL and Jet-A Fuel are available 24/7. Satellite weather, wireless internet and use of a courtesy car are available to pilots at no cost.
Located at the entrance to the terminal is a very unique feature of our airport, "The Aviation Memorial and Pilot's Walk". The Walk was designed, constructed and paid for by local pilots of the Orangeburg Pilots Association. It effectively communicates historic events in aviation history and honors those associated with aviation. Visitors can enjoy a quiet time of contemplation as they stroll along the Walk and perhaps recognize some of the names placed there. Pilots having visited the Orangeburg Airport are eligible to become a part of our walk.


Aviation Commission Members
James Albergotti, Jr.
Carroll Joye, Chairman
Kevin Bell
Richard Leonard
Phyllis Pelzer
Tonzel Shuler
Carl Carpenter


Flight Information
Coordinates
33°-27.66N; 80°-51.54W.
Navaids
VOR/DME EDS-114 on field, NDB 226 OYI.
Contact Info
Telephone: (803) 534-5545
Fax: (803) 533-5928
After Hours: (803) 682-2975.
Elevation
197 Ft. AGL.
Pattern altitudes
1,200 Ft. MSL.
Runways
5/23 4,600 X 100 (Asph.), 17/35 5,400 X 100 (Asph.) -- Note: Rt. Traffic only on runway 5.
Lights
7 clicks in 5 seconds.
Approaches
GPS (All runways) Navigation: VOR, NDB (R/W 5)
Communication Frequencies
Unicom/CTAF 122.7, Anderson FSS (800) WX-BRIEF
IFR Clearance
125.675 (Available from the ground).
Field Weather
Field Weather: ASOS 118.525 (803) 536-3901
Charts/Plates
Charlotte Sectional, L-19/L20 IFR Low Alt., SE-2 Approach Plate.
Local attractions
Edisto Memorial Gardens (2mi.)
Hillcrest Golf Course (5 mi.)
Notes
Right TFC RUNWAY 5 & 23
Transportation
Taxi, Courtesy Car.
Rental cars
Enterprise (803) 534-0143
Express (803) 531-0094

Lodging