Candidate Testing

The NCJOSI is a comprehensive assessment tool designed to select individuals for law enforcement positions. It combines two critical measures to provide a predictive assessment of candidates.
Cognitive Ability Measure: This section consists of 80 items designed to evaluate the cognitive abilities necessary for effective law enforcement work.

Non-Cognitive (Integrity) Measure: The integrity section includes 120 items to assess a candidate's character and ethical standards. Research indicates that this combination of cognitive and non-cognitive measures is highly predictive of a candidate's potential success in law enforcement roles.
The Police Officer Physical Ability Test is a rigorous evaluation of physical fitness, reflecting the demands of the law enforcement profession. It consists of a series of essential physical tasks required for law enforcement training and the job itself. The course spans a total of 870 feet (290 yards/265.2 meters) and involves nine distinct tasks, all designed to measure physical capabilities crucial for effective law enforcement work:
Running: Assessing the candidate's cardiovascular fitness and endurance.
Jumping (Low Hurdle): Evaluating agility and the ability to overcome obstacles.
Climbing Stairs: Testing leg strength and endurance.
Low Crawling: Assessing the ability to navigate confined spaces and maintain physical control.
Jumping (Broad-Type): Evaluating power and agility.
Climbing a Fence (Chain-Link/Four Feet): Testing the ability to surmount obstacles and barriers.
Climbing Through a Window: Assessing agility and dexterity.
Moving/Dragging a Weight (150 Pounds): Evaluating strength and the capacity to handle heavy objects.
Changing Direction on the Run: Assessing the ability to react swiftly and maneuver effectively.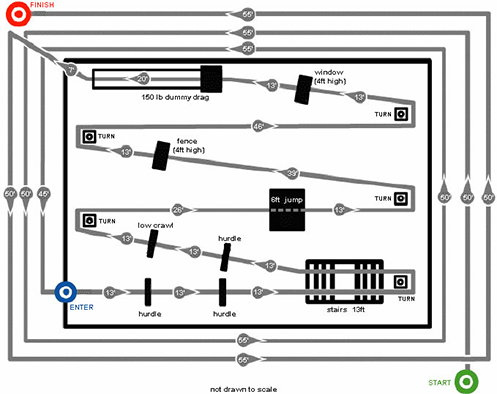 These assessments are crucial in selecting candidates who possess the physical fitness and mental aptitude necessary for a successful career in law enforcement. It ensures that those entering the field are well-prepared to meet the rigorous demands of the profession.
Firefighter Physical Ability Test (PAT)
The Physical Ability Test (PAT) is a tool used by the Orangeburg DPS Fire Department to evaluate a candidate's level of physical fitness. Candidates will perform several tasks similar to those performed by firefighters on the job and must successfully complete all stations, in the time designated, to receive a passing score. The PAT consists of 12 tasks, that must be performed in a specific sequence, and is a PASS/FAIL event. Candidates are not ranked according to completion time. The testing process and sequence of events are subject to change.
Fire PAT candidate medical clearance and disclaimer of liability form.
Fire PAT waiver of liability and hold harmless agreement.
General Rule & Guidelines:
Candidates must sign a hold harmless agreement.
No spectators are allowed.
No cheering or coaching from proctors or other candidates.
Required Gear: 40 lb. vest and gloves. Both will be provided for you.
Candidates will be timed from start to finish.
You may not run at any time during the course.
Failure to complete any individual task will result in disqualification.
Candidates must follow the instructions provided by the proctors.
During the live examination, proctors may provide instruction but may not conduct a demo.
If a candidate says they wish to stop the test or cannot complete the event, the candidate is then disqualified.
Candidates will not be able to continue if they are disqualified or exceed the specified time.
Expected time to complete skill(s) is 11 minutes.
Events in the Firefighter PAT course are:
Stair climb with hose bundle.
Forcible entry simulator.
Ground ladder carry.
Stair climb with equipment raise.
Perimeter walk.
Charged hose drag.
Charged hose feed.
Equipment carry.
Ceiling breach and pull.
Victim rescue.
Walk a designated path.
Stair climb.