After The Fire Is Out

AFTER THE FIRE IS OUT - A HELPFUL GUIDE
If you are reading this page, chances are the Orangeburg Department of Public Safety responded to a fire in your home or business.
If we can be of further assistance to you, please contact us at 803-533-5900.
Now that the emergency is over, we want to help you in the recovery process.
Knowing where to begin and who can help you is important. We hope this page will be useful in getting through the coming days now that the fire is out.
Replace a Car Title - SC DMV Replace Birth Certificates Replace Social Security Cards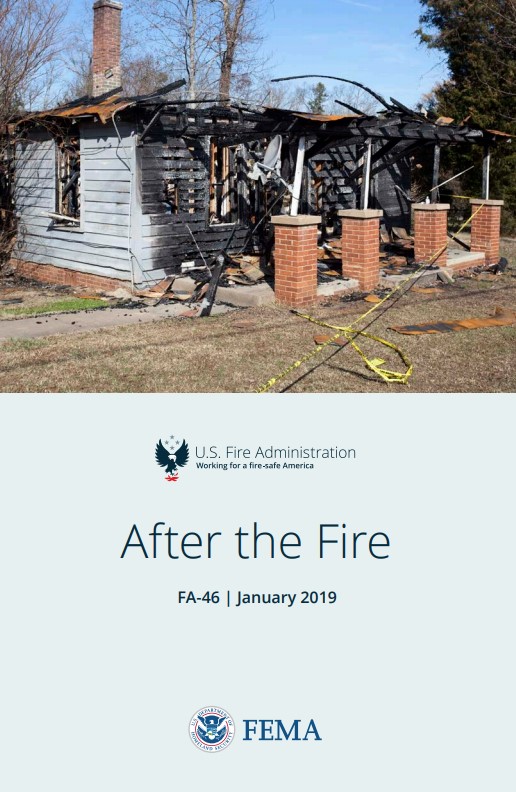 FIRE DEPARTMENT OPERATIONS
Fires produce temperatures well over 1200 degrees Fahrenheit, along with smoke and hot gases. At times, it is necessary to eliminate heat, smoke and hot gases before firefighters can successfully extinguish the fire. A fire in a home can cause serious damage. The building and many of the things in your home may have been badly damaged by flames, heat, smoke, and water. Standing outside the house and watching the efforts of the firefighters can be very frustrating, but be assured that the firefighters are trained to fight the fire in many ways, both from the interior and exterior of the home.

Why did the firefighters cut holes in the walls or ceiling?
The firefighters may have cut holes in the walls of the building to look for any hidden flames. This is done so that the fire department is sure that the fire is completely out and that there is no fire left inside the walls or in other hidden places.

Why did they cut holes in the roof and break windows?
They may even have cut holes in the roof to let out the heat and smoke. Breaking windows and cutting holes in the roof is called ventilation. This slows the fire's growth. It helps get rid of dark smoke that makes it hard for firefighters to see where they are going. In the end, ventilation can help save lives and property.
ASSESSING THE DAMAGE
While Firefighters are on scene of an incident, the building is under their protection and control. As long as a firefighter, investigator or public safety officer is on the property, they will accompany you, when it is safe to enter the building, on assessment excursions into the damaged area.
Fires can start again even if they appear to be out. Roofs and floors may be damaged and subject to collapse. It is important to understand the risk to your safety and health even after the fire is out. Be very careful if you go into your home and if you touch any fire damaged items. Before starting clean up repairs, ask the advice of the Fire Marshal, your insurance agent, and/or restoration specialist.
Food, beverages and medicine exposed to heat, smoke, soot and water should not be consumed.
Can you live or work in the building?
Allow time after you re-enter the scene, for proper ventilation in the building. Some toxins may still be trapped in areas of the building and without proper fresh air ventilation, some personal discomfort may be experienced with the following symptoms: headaches, dizziness, nausea, etc. Should symptoms persist, see your doctor.
Property insurance
If you own or are purchasing the property, contact your insurance company or agent as soon as possible. If you are renting or leasing the property, you must contact the owner. Your insurance agent will know what parts of the damage are insured. In some cases they may be able to assist by providing names of reputable contractors who can do restoration to certain elements of the work that are not insured.
If you cannot live in the building
If you're not able to live or work in the property, remove all valuables. When the fire department releases the property to you, by word or abandon, you become responsible for the security of the property. Securing the doors and windows and other areas against unauthorized entry becomes your responsibility.

Those who have experienced a fire or other disaster may obtain assistance from the local American Red Cross chapter.
UTILITIES
Often the Fire Department will have the utility services interrupted or disconnected as a safety precaution and also to prevent further damage to the structure and its contents. Steps to re-establish utility services are:

Electrical - An Electrical Inspector must check the wiring to be sure it is safe before the power can be reconnected. Contact the Orangeburg City Building Official at (803) 533-6052 if you are within the city limits of Orangeburg or the County Building Official if you are outside the city limits at (803) 533-6173. Remember, have a service person check damp or wet appliances before you operate.

Natural Gas - DO NOT turn the gas back on after an incident. Call Orangeburg Department of Public Utilities at (803) 268-4050 to have a service person turn on gas and relight appliances for you.

Water - This utility may be turned back on by the resident. Use caution however, the incident may have damaged the plumbing. Hidden leaks may cause further damage when water is re-introduced into the pipes.

Telephone - Contact your telephone or cell phone provider for this service.
PETS
If your pet cannot be located following a fire, please check with your neighbors or City Animal Control at (803) 533-5900 or County Animal Control at (803) 534-0045.
Often when firefighters enter a home on fire, pets may run past the firefighters before they can be caught. Most pets will return home within 24-48 hours.
As soon as possible, take your pet to a veterinarian. Smoke can damage the lungs of a dog or cat in minutes and sparks can cause painful burns that may stay hidden under the pets fur.
Try to leave pets with a family member, friend, or veterinarian if you are visiting or cleaning your damaged home. Keep your pets out of the house until the cleanup is complete to keep them safe.
CLEANING
Wall to Wall Carpet - A wet / dry vacuum or water extractor carpet cleaning machine are excellent for this job. These can be rented at most supermarkets or drugstores. They will remove the standing water and dirt. Then add carpet cleaning detergent and clean the carpet per manufactures specifications or as instructed on the machine.
Flooring and Rugs - Let rugs and carpets dry out thoroughly. Throw rugs can be cleaned by beating, sweeping, or vacuuming and then shampooing. Shampoo with a commercial rug shampoo, dry the rugs as quickly as possible by laying them flat and exposing them to a circulation of warm dry air. A fan turned on the rug will speed the drying process. Make sure the rugs are thoroughly dry. Any moisture remaining at the base of the tufts will quickly rot the rug, causing it to fall apart.

When water gets underneath linoleum, it can cause odors and warp the wood flooring. If this happens, remove the entire sheet. If the linoleum is brittle, a heat lamp will soften it so it can be rolled up without breaking. If carefully removed, it can be re-cemented after the floor has completely dried. Small blisters in linoleum can be punctured with a nail and re-cemented if one is careful. Dilute regular linoleum paste thin enough to go through a hand syringe and shoot adhesive through the nail hole. Weigh down the linoleum with bricks or boards. It is usually possible to cement loose tiles of any type. Wait until the floor is completely dry before beginning.
Clothing - Always read the care label before treating any garments, for proper instructions.

Smoke odor and soot can sometimes be washed from clothing. The following formula will often work for clothing that can be bleached:
4 to 6 tbsp. Tri-Sodium Phosphate

1 cup Lysol or any chloride bleach

1 gallon warm water or ½ cup ammonia to two gallons of water

Rinse with clear water

Wear rubber gloves when cleaning. After washing article, rinse with clear warm water and dry thoroughly.
Preparing Clothing for the Cleaners - Should you have doubts or questions about the cleaning or preparations of clothing, it is wise to contact your local cleaning service.

Leather - Wipe with a damp cloth, then with a dry cloth. Leather goods should be dried away from heat and sun. Stuff your purses, shoes, etc. with paper to retain shape. Leave suitcase open for airing. Steel wool or a suede brush can be used on suede. We recommend you contact a leather and suede cleaner for information.

Mildew is a mold growth. If it is allowed to continue, it will weaken or rot fabrics.
Books - Books can be dried by placing them on end with pages separated. Then they should be piled and pressed to prevent the pages from crinkling. Alternating drying and pressing will help prevent mildew until the books are thoroughly dry.
If your books are very damp, sprinkle cornstarch or talc between the pages, leave for several hours, then brush off. A fan turned on the books will help them dry.
Photographs - Preserving damaged photographs is often very important to victims of fires, floods and other disasters. If photographs are not burned they can usually be saved. Never try to peel apart photographs that have stuck together. Always remember that photographs were originally developed in water solutions and then washed.
Soak the photos in clear, clean water and rinse carefully and thoroughly and let stuck photographs separate on their own. If they stay damp they can be damaged by mold. If you have quantities of wet photos, wrap them in plastic wrap and freeze them, then thaw them and wash them a few at a time. After washing the photos, dry them image side up on a smooth hard surface like a glass table or kitchen counter.
Ways to Remove Mildew - Wash stain with soap and water. Rinse well and dry. If stain remains, use lemon juice and salt, or a solution of a tablespoon of "perborate bleach" to a pint of lukewarm water, or dilute a solution of household chlorine bleach. Test colored garments before using any treatment.
Combating Odors - This generally is a very complex problem due to the many varied materials on the market today. Manufacturer's combine several raw materials such as natural fibers (cotton, linen, silk, wool, fur, fiber, etc.)
DOCUMENTS AND MONEY
Fireproof Safe - A good investment is a fire-proof safe that is UL rated for a minimum of 1 hour at 1,700 degrees Fahrenheit. This is usually enough time for firefighters to extinguish a blaze. You will then be able to recover your preserved documents when it is deemed safe.
Important documents to be kept in a fire-proof safe include: