Our History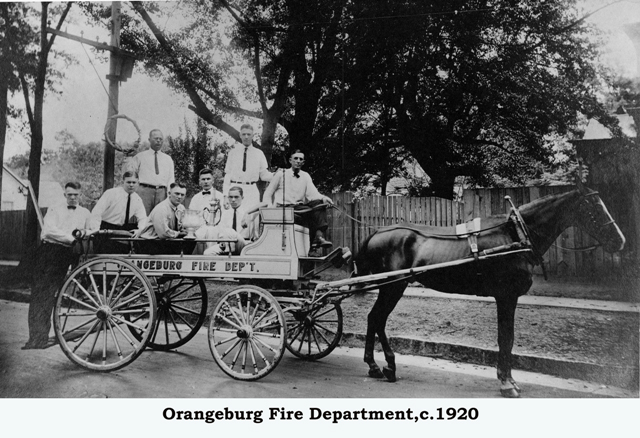 This page is a work in progress, please check back.
Until 1920, there was no city-owned fire department in Orangeburg. Instead, there were four separate volunteer departments: East End Reel Company, Elliott Independent Hook and Ladder Company, Phoenix Hose Company, and Young America Steam Fire Engine Company. The East End Reel Company was started in 1889 with their headquarters located off of Boulevard by the railroad tracks. The Elliott Company was started in 1889 as the first ladder company in Orangeburg. Their equipment consisted of a hand-drawn ladder wagon and a supply of buckets. Originally located on Middleton St., they eventually found a new home on East Russell St. The Phoenix Hose Company was Orangeburg's first and only African American fire department and was located on Treadwell Street. Originally called the Comet, this company broke up and rejoined several times being named the Enterprise Company, the Independence Company, the Palmetto Company, and finally the Phoenix Reel Company. The Young America Steam Fire Engine Company, started in 1855, was the first volunteer fire company in Orangeburg. It had Orangeburg's first steam fire engine pumper and had its headquarters in front of the First Baptist Church building. In 1920 the four volunteer organizations joined together to form a new fire department owned and operated by the City of Orangeburg.
In 1921, Orangeburg bought its first fire truck, a 1921 American LaFrance fire truck for $12,000. It had 125hp and could pump 1000 gallons of water per hour. The city still has this engine, although it is not currently running. Because there was a need for more modern equipment, a Seagrave Service Truck with ladders, a chemical tank, and a life net was purchased in 1922, replacing the old horse drawn hook and ladder truck from the Elliott Company. In 1927 the city built a new fire station along with City Hall and the Carolinian Auditorium and Theatre, which is now Stevenson Auditorium. A new Seagrave 500-gallon pumper with a booster tank, which was the first of its kind in South Carolina, was purchased in 1930. In 1942, a new Seagrave 600-gallon pumper with a water tank was purchased. By 1946, the city's fire department had grown to four pumper trucks, one hose wagon, one chief's car, one flood light trailer, and thousands of dollars worth of hose and additional equipment. There were also ten full-time firemen, fourteen part-time firemen, and the chief working for the department. Gradually, most of the part-time employees were promoted to full-time. In 1949, the city purchased another truck, an American LaFrance 65 Aerial Truck, equipped with a 750-gallon pump. This was unlike any other truck in the state. A Rescue and Salvage Unit was created in 1951 and a new 750-gallon American LaFrance pumper truck was purchased in 1954. In 1959 and 1961 the fire department replaced the 1922 Seagrave 750-gallon truck and the 1930 Seagrave 500-gallon truck, respectively, with new "made in shop" trucks on Chevrolet chassis'.