COVID-19 Information
Coronavirus COVID-19 Updates
8/24/2021 | Ordinance No. 2021-7 | Emergency Masks or Face Coverings Ordinance
City Council has approved an ordinance requiring masks and face coverings in establishments and at gatherings.
6/30/2020 | Ordinance No. 2020-4 | Face Mask Ordinance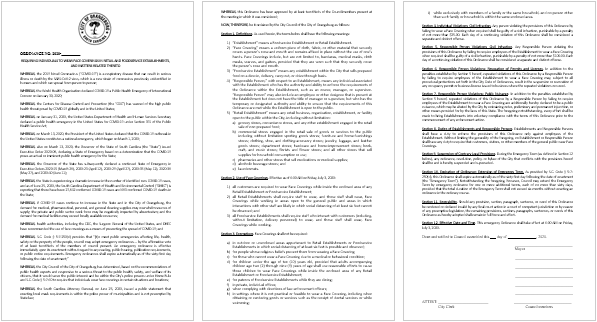 2020-04 City Face Mask Ordinance
5/4/2020 | Update on Due Dates
Business Licenses
Business Licenses with the City of Orangeburg originally due by May 5th now due June 1st without penalty. 10% penalties per month will accrue beginning June 2nd.
Hospitality and Accommodations Taxes
Hospitality and Accommodations Taxes are due for:
March 2020 originally due April 20 now due May 20
April 2020 originally due May 20 now due June 20
Penalties will accrue at full rates following the due dates
Property Taxes are due as normal for the City of Orangeburg
4/9/2020 | COVID-19 Trash Pickup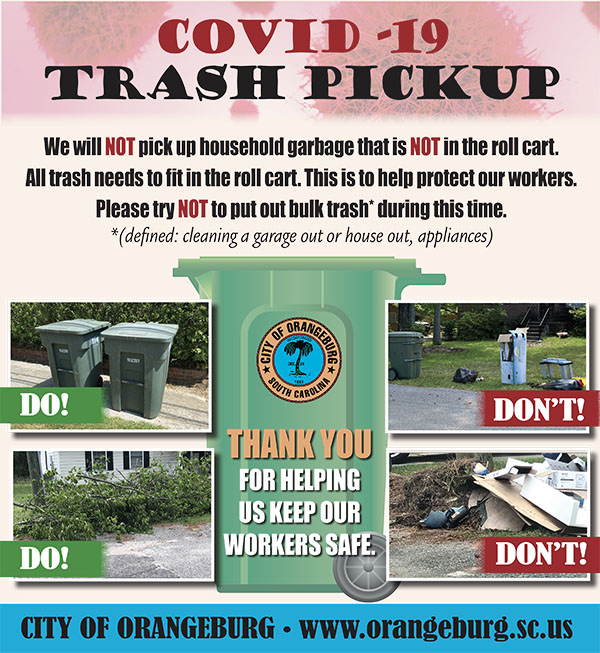 4/8/2020 | Mayoral Proclamation
Official notice from the Office of the Mayor, Declaring a State of Emergency and Curfew in the City of Orangeburg, South Carolina.
Coronavirus COVID-19 Information
The City of Orangeburg Offices have very limited access to staff at this time to help prevent the spread of the coronavirus. This access may change at anytime.
Currently we have envelopes in the lobby of City Hall for tax and business license payments. The drop box for the payments is outside of City Hall.
We have included a list of helpful numbers to call if you have questions or are in need of services:
| | |
| --- | --- |
| For Business Licenses and Taxes | 803-539-3750 |
| Hillcrest Golf Course (Currently Closed) | 803-533-6030 |
| Parks & Rec (City Gym, North Road fields, and all parks) | 803-533-6020 |
| Municipal Court | 803-533-5921 |
| Public Safety (Fire/Police) Emergency | 911 |
| Public Safety (Fire/Police) Non Emergency | 803-534-2812 |
| Public Works (Sanitation) | 803-533-6010 |
| Building Permits, Code and Inspections | 803-533-6010 |
Many transactions and payments can be completed online www.orangeburg.sc.us
Our mailing address is:
PO Drawer 387
Orangeburg SC 29116
or
979 Middleton Street
Orangeburg, SC 29115
Stay Updated
Please stay up to date with the latest information though our social media accounts and website www.orangeburg.sc.us.
Social Media Accounts
Be safe and we will get through this!
Community COVID-19 Information
Orangeburg County COVID-19 Info